'City of Opportunity'
Attractive remuneration
2 year contract
Nestled among the Selwyn Ranges and on the banks of the Leichardt River in north-west Queensland is Mount Isa, Australia's premier mining city and one of the most important industrial powerhouses in the nation. Mount Isa is not just about mining; it is a vibrant and progressive family friendly city, rich with community pride and offering an abundance of shopping, educational and recreational facilities.
The Position:
Reporting to the Executive Manager Governance and Community Services you will be responsible for the development and implementation of high-quality human resource support services for Mount Isa City Council.
Experience and Qualifications:
Extensive experience in the provision and management of HR services including workforce planning, recruitment, performance and conduct management, change management, industrial relations, organisational culture and training and development;
Sound knowledge of and the ability to interpret, administer, communicate and comply with the relevant awards, agreements and legislation relevant to Queensland Local Government;
Experience in the development and implementation of HR policies and procedures;
Outstanding leadership and personnel management skills with the ability to plan, prioritise and organise work;
Tertiary qualification in a relevant discipline such as Human Resource Management or Industrial Relations; and
Experience in Local Government will be highly regarded.
To obtain an Information Package contact:
Faith Della-Sabina P: (07) 5477 5433
Email: faith@logoapp.com.au
Applications close Monday, 25th March 2019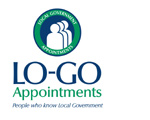 LO-GO Appointments
PO Box 1048, Buddina 4575
21 Nicklin Way, Minyama 4575